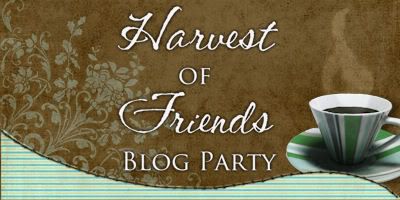 I am still learning more and more about this blogging world, and one thing I've just stumbled across is this Blog Party. I know that lots of you who read my writing (mostly old friends and family, I think!) do not blog yourselves. This Blog Party is a way to introduce my blog to like-minded bloggers, because we all list our sites on the blog that is hosting the party. You can check out the hosting site, and look at the other blogs that have linked up
here
.
The host of the Blog Party, Lynnette Kraft, has posted 20 questions for participants to answer about themselves as an introduction to new visitors. Here are mine!
1. What is your favorite thing to snack on while you're blogging?
A latte I picked up from my hubby when I visited him at his job-- Starbucks!


2. What is one thing you wouldn't want to live without?
God's grace; it has changed the way I live, what I hope to accomplish in life, and the way I view myself.
Romans 5:1-2 "Therefore, since we have been justified by faith, we have peace with God through our Lord Jesus Christ. Through him we have also obtained access by faith
into this grace in which we stand, and we
rejoice in hope of the glory of God."
3. Beach, Mountains or Farm? Where would you live if you had a choice?
I live in the mountains now. They're little, but I love them!


4. What's your least favorite chore/household duty?
Folding the white laundry. Endless undershirts and socks with no matches!


5. Who do people say you remind them of?
No one in particular, but people say I act like a mom and teacher... which is fine by me!


6. Prefer parties and socializing or staying at home with the fam?
I love spending time with my husband, and would choose alone time with him over a party. But we enjoy socializing together.


7. What's your all time favorite movie?
Honestly, Toy Story. I don't think that will every change!


8. Do you sleep in your make up or remove it like a good girl every night?
Every night? No way!


9. Do you have a hidden talent or a deep desire to learn something that you've never had a chance to learn? What is it?
Reed bought me a sewing machine for my birthday this year, and I can't wait to master it! I think that might take a while, though.


10. What's one strange thing you're really good at?
Finding my way out of a town we're completely lost in. At least, I'm better at it than Reed is!


11. What first attracted you to your spouse?
Reed's desire to live for God attracted me to his life before I was attracted to him. I told my friends that he was the exact type of person I wanted to marry, even though I wasn't attracted to him yet! Then, within the year, I knew he was for me.


12. What is something you love to smell?
A warm house filled with yummy food. And newborns.


13. Tell something about you that you know irritates people.
I bite my nails, and that bothers a lot of people. Particularly, Reed and my grandmother.


14. When you have extra money (HA!) what's the first thing you think to do with it?
Pay off the ridiculous amount of student loans that Reed and I owe, for sure!


15. Are you a silent laugher or a loud laugher? What makes you laugh the hardest?
I hope my laugh isn't obnoxious, but I think I am a loud laugher. Silly kids, story telling with friends, and enjoying genuine fellowship make me laugh.


16. Where is your favorite place to shop?
I love T.J. Maxx.


17. What's one thing you'd do more often if you had more time?
Practice on my sewing machine.


18. Are you a big spender or frugal?
Frugal! Trying to grow my frugal skills with every week.


19. Who is your favorite character of all time (from a movie or book)? (Can't be real)
After wasting way too much time trying to think of someone, I'm just going to say that I'll have to come back to this one.


20. Would you want to be famous?
Nope. I have enough trouble trying to please God and my husband. I don't need millions of others judging my actions and choices!